The CEF projects*** virtual hackathon will be a competition for innovative ideas aimed at developing new smart services, solutions or applications in the sectorof Smart Mobility, urban green areas management and open data (including satellite data and Earth Observation data).
The aim is to create innovative solutions to support technical and business activity.
In this 45-minute webinar hosted by FIWARE Foundation we present:
challenges on smart mobility and satellite data domains
technical specifications requested
Rules to apply
Roles of the jury members, which include major cities such as Milan, Rome, Naples and Helsinki
Business benefits such as prizes money
….and of course a Q&A session for all your doubts!!!
Participating in the hackathon promoted by DYDAS and SPOTTED is free, easy (you can do it from home or office, wherever you are) and winners will get global visibility!
Don't miss th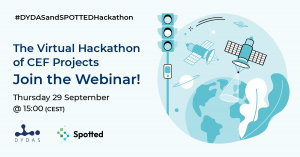 is fantastic event. Here the link for registration! Curious to know more? Check out our page on fiware.org