SPOTTED Consortium Meeting: An Innovative Solution for Green Areas Management
The fourth Consortium Meeting of the SPOTTED project was held on the 27th of April 2023 at the Grand Hotel Continental in Bucharest, hosted by PlanetGis SKY. The meeting aimed to discuss the progress of the project in terms of requirements and pilot preparation, technical development and deployment, and dissemination.
SPOTTED aims to provide an innovative solution that uses open data collections and Earth Observation (EO) data to monitor and support decision-makers in the field of green areas management. The project's three pilots in Milan, Helsinki, and Naples are focused on monitoring and planning green areas in cities in relation to different factors such as tourism impact, quality of life, and economic growth.
The SPOTTED project aims to provide a solution to the management of green areas that will contribute to the sustainable development of urban areas. Its innovative approach to using open data collections and EO data for decision-making has the potential to have far-reaching implications in the field of green areas management.
The consortium reported that the project is on track, and all milestones have been achieved on time. In addition, future activities discussed at the meeting included Francesco Mureddu's presentation of the project at the FIWARE GLOBAL SUMMIT in Vienna on the 13th of June 2023. SPOTTED will also acquire a booth within the scope of the FIWARE stand at the Smart City Expo World Congress in Barcelona from
the 7th to the 9th of November 2023.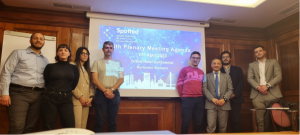 Don't miss out on SPOTTED Presentation at FIWARE Global Summit in Vienna!
Grab you ticket  HERE